Hypnosis To Stop Procrastinating
Hypnosis to quit procrastinating is the most powerful way to stop your current procrastinating tendencies. You know already that your conscious willpower isn't helpful to conquer
procrastination. It doesn't matter how hard you may have tried in the past to get things done in a timely and more expedient manner, you have found that you frequently find that you have been putting off getting things done until the very last second over and over again.
Procrastinating can lead to poor work quality your chosen career or at school when you fail to allow sufficient time to prepare and complete school papers. It often hurts your social relationships as it interferes with you being considered a reliable friend. Left without enough time to do the best you can, and working hurriedly, will ultimately hurt your progress in furthering your goals to the best of your ability and keep you from fulfilling your life goals.
Through hypnosis we can bypass you conscious mind, which has always failed to keep you from procrastinating, and make beneficial changes within your subcons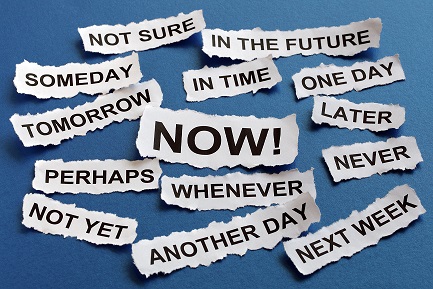 cious mind that will automatically, and easily, have you getting right down to work on whatever your projects and goals. And you'll do it in a way that will not be stressful, but rather pleasing to get going and complete your chosen goals. you'll gain a sense of ccomplishment and feel very resourceful when you have completed your tasks and arrived at your goal.
Please call our Rockland hypnosis center at (800) 749-0840 immediately to schedule a hypnosis to quit procrastinating session with Rocland hypnotist in New City so we can change your past subconscious attitudes and beliefs into more valuable productive ones, more quickly and easily than you ever imagined. You will naturally generate new behaviors leading you to complete all your projects and tasks on time and be productive.
The Advanced Hypnosis Center of Rockland County is conveniently located in New City, NY 10956 – Call today and stop procrastination now!