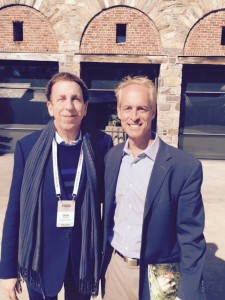 I enjoyed talking about nutritional policy in the U.S. with nutritionist, Dean Ornish at The New York Times: FOOD FOR TOMORROW conference at Stone Barns in Pocantico Hills, New York. His research and studies have been instrumental in bringing to the American public, the concept that diet and nutritional choices are key to leading a healthy life.
Dr. Ornish has empowered Americans to educate themselves and to make better dietary choices that can have a significant effect on their physical well being. He emphasizes a plant based diet with a very limited consumption of animal products, because some research has shown that eating more meat can increase the chances of disease. However, much of this research has failed to ask the type of meat are that is being eaten. Meat that is raised on inorganic grains with residues of pesticide, fungicide and herbicide, and produced with antibiotics, hormones and steroids is unhealthy, as well ass processed meat products that have added preservatives. But 100% pastured meat, produced without the use of antibiotics, hormones or steroids can actually promote health.
He is the author of several best-selling books, including Dr. Dean Ornish's Program for Reversing Heart Disease; Eat More, Weigh Less;  and The Spectrum, his most recent book.