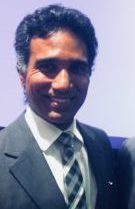 Dr. Ricartty Trinidad was born in Puerto Rico and before he established himself as a hypnotherapist in Rockland County, New York, he taught hypnosis at the Art of Embracing Life Center in Mayaguez, PR. He conducts his hypnosis sessions in both  English and Spanish. Clinical Hypnotist, Dr. Trinidad has a strong background in martial arts, triathlon training, technical diving, sky diving and performing arts. Ricartty holds a minor in eastern and western religion, and a medicinae doctor degree (MD).
With over fifteen years of experience in the field of clinical hypnosis, Dr. Trinidad has empowered athletes, performing artists, executives, and people with different ailments to improve the quality of their life. Whether working with children or adults, he is very thorough and sensitive and takes all the necessary to listen and really understand his client's background and circumstances.
Dr. Ricartty Trinidad is a Certified Hypnotherapist with International Association of Counselors and Therapists and a Certified Master Trainer teaching others to become hypnotists.
Dr. Trinidad specializes in many of the areas where some people are suffering the most. From using hypnotherapy to conquer fears and phobias to pain management and erectile dysfunction, Dr. Trinidad uses hypnosis and NLP to help the unconscious be able to process the hypnosis suggestions more powerfully.
After each hypnotherapy session you will feel more relaxed and more confident in situations that have previously challenged you. People will notice that you look different,  your physiology will have changed due to your new way of thinking and are more confident. Many people report after their hypnosis sessions that they are calmer and think more clearly.
As you continue to work with Dr. Ricartty Trinidad and utilize the self-hypnosis techniques he teaches you, you will find that you are free of the negative thinking patterns that have controlled your conscious and they have been replaced by positive and uplifting thoughts. This new way of "healthy thinking" goes a long way to help people overcome their challenges.
Dr. Trinidad is also a sports performance specialist. Given his own personal background in sports and fitness he brings a high level of comprehension that goes beyond what most hypnotherapists can achieve in this area. From improving your golf game to staying more focused in competitive sports, Ricartty can work with you one on one and will make hypnotic suggestions for both  the physical part of the game and the mental.
As a Medical Doctor, Ricartty works with a great many people seeking pain relief without the use of medication, or at least a reduced amount. Through a series of hypnotherapy sessions, Dr. Trinidad can help you use powerful self-hypnosis techniques that can help you "turn down" the level of pain your body sends to your brain. Regardless if the pain is physical or emotional, Dr. Ricartty Trinidad will help get to the root of the pain as well as reduce your body's need to keep sending those pain signals to the brain and controlling your daily life.
With the same great success, Dr. Ricartty Trinidad also uses hypnosis to help treat stress, anxiety, grief, general and specific fears,  insomnia or restless sleep patterns as well as hot flashes after chemotherapy, post traumatic stress syndrome, addictions and eating disorders and many others.
If you are looking to make a positive change in your life then hypnotherapy can help you. Give Advanced Hypnosis Center a call today and let us know how we can help you improve your life with hypnosis.