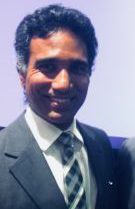 Dr. Ricartty Trinidad was born in Mayaguez, PR and before he established himself in New York City, he was an active hypnosis teacher at the Art of Embracing Life Center with Master Trainer Franka Fiala. He conducts sessions in Spanish and English. With a strong background in martial arts, triathlon training, technical diving, performing arts and sky diving, he holds a minor in eastern and western religion , and a medicine doctor degree (MD).
With more than fifteen years of experience in the field of clinical hypnosis he has learned methods to empower athletes, performing artists, executives, and people with different ailments to improve their lives. He learned ways in a sensitive manner to work with children, relieve stress, anxiety, grief, fears, addictions, pain, chronic disorders, hot flashes after chemotherapy, post traumatic stress syndrome, eating disorders and so forth.
Dr. Ricartty Trinidad is a certified hypnotherapist with IACT (International Association of Counselors and Therapists) and is working to become a certified master trainer.